Cloverdale, IL
Information courtesy of Wayne Weishan and Terry Michaels
Description
Cloverdale is located about 10 miles west of O'Hare Airport on Schmale Rd., just south of Army Trail Road in Glendale Heights (N41-56-05 W88-05-57). The photo below shows the site from the west across Schmale Road.
Coverdale was built as an auxiliary (repeater) station on AT&T's first transcontinental microwave radio route, linking Chicago to the east and Plato Center to the west.
The station has two towers: the original 103.5 foot Type 2C concrete tower, and an adjacent 312.5 foot Type M steel-lattice tower. On the steel tower, two outrigger platforms at 175.0 feet above ground and the main platform's waveguide service catwalk have been removed.
In addition to its role in the coast-to-coast microwave network, Cloverdale is also significant in another area of Bell System history. The station was one of ten Advanced Mobile Phone System (AMPS) cell sites built for the system's Chicago developmental field trial in 1978. A photo of Cloverdale is included on p. 257 of the January 1979 issue of the Bell System Technical Journal, devoted to AMPS. The original AMPS cell-site building is on the east side of the steel tower, hidden by trees.
Image
Courtesy of Wayne Weishan
Select image to view a larger version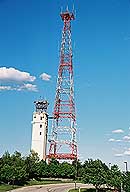 Return to...
Created on July 31, 2005 at 10:02 by Albert LaFrance