Unionville, PA
Common Language Location Identifier (CLLI): unknown
See Also
Mike Jacobs's Unionville page - includes recent photos.
Site Data
Address: on State Rt. 504 (Rattlesnake Rd.) in Unionville borough, Centre County, PA

Latitude: N40-55-06 (40.91833)

Longitude: W77-58-26 (-77.97389)

Elevation: 2390 ft. ( 728 M)
FCC Microwave License Data
City/County of License: Unionville borough/Centre, PA

Active Callsigns: None

Canceled Callsigns: KGH92
Description
Unionville consists of a self-supporting steel tower and a flat-roofed concrete equipment building. The tower holds two pairs of Western Electric KS-15676 horn reflector antennas, and a parabolic antenna.
Historical Role
Unionville linked the stations at Swissdale (to the northeast) and Dean (to the southwest) via its horn-reflector antennas. The station was probably a repeater (an auxiliary station), and a junction for traffic to and from State College. One of the two parabolic antennas shown in the 1966 photos delivered television programming to station WPSX-TV at Penn State University in the town of State College, about 11 mi. to the southeast. The other "dish" likely provided long-distance service to the town's Bell of Pennsylvania central office.
Route Map: January 1970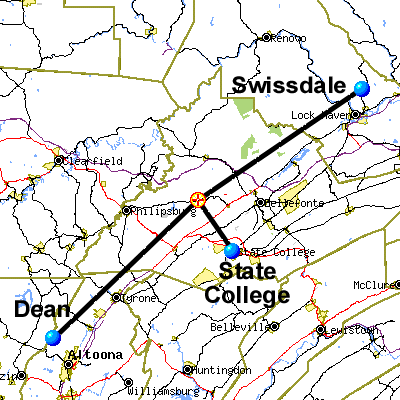 Present Function
AT&T sold Unionville to American Tower Corporation, which leases space on the tower to wireless communications providers. American Tower has posted a site brochure, including recent photos, describing the Unionville site and facilities.
Images

Photographed November 4, 1966 by Russell K. Curtis, Altoona, PA
Select an image to view a larger version
For recent photos, see Mike Jacobs's Unionville page.
Updated on November 15, 2001 at 20:18 by Albert LaFrance
Thanks to Michael W. Jacobs for his contributions to this page.
Return to...