Stansbury Island, UT
Stansbury Island was a station on AT&T's first transcontinental microwave radio route, linking Salt Lake Junction to the east and Cedar Mountain to the west.
Originally equipped with KS-5759 delay-lens antennas mounted on a ground-level platform, the station was later upgraded to KS-15676 horn-reflectors on a steel-lattice tower. An unusual feature of Stansbury Island is the "upside-down" mounting of the horn antennas, placing the antennas' principal radiation axes closer to ground level than would be possible with the conventional placement. This style of mounting was probably related to concerns about reflections from the surrounding salt flats. A November 1951 article states:
"In Utah, the review stated, the microwave takes the old Mormon route through Pratts Pass as it approaches the Great Salt Lake. West of Salt Lake City, the engineers adopted an unusual procedure to overcome excess interference caused by radio-wave reflections from the famed Utah salt flats. The technique was to direct the microwave beams from a high station near Salt Lake City to a ground level station 38 miles to the west in the flats. From this point, the signals can take a 20-mile jump to Cedar Mountain, which rises above the flats, then jump 32 miles to a second ground level station and finally back to high ground again in another 32-mile leap to Wendover, just across the Utah-Nevada border. Thus, the path of the beam was said to form a huge W, 122 miles wide."
Images
Courtesy of Wayne Weishan
Select an image to view a larger version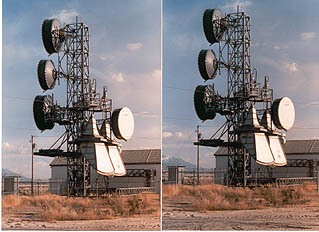 This is a pair of photos that can be viewed with a stereo viewer to obtain a 3-dimensional image. If you don't have a stereo viewer you can print the pair as a thumbnail, hold the print very close to your eyes so that you see three blurred images - the one in the center will be the stereo combination - and then move the pictures slowly away from your eyes until they come into focus. It takes a little practice.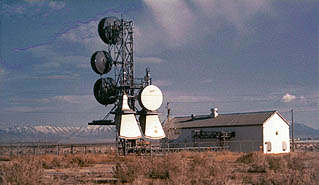 Return to...
Created on January 29, 2006 at 10:07 by Albert LaFrance