Randallstown, MD
Common Language Location Identifier (CLLI): RNTWMDQ0010
Geolocation (GL) code: MD2490
Site Data
Address: 9035 Old Court Rd. (Rt. 125) about 1.6 mi. south/west of Liberty Rd. (Rt. 26), Gwynn Oak, MD

Latitude: N39-21-03 (39.35083)

Longitude: W76-47-56 (-76.79889)

Elevation: 540 ft. (165 M)
FCC Microwave License Data
Location: unknown

Active AT&T Callsigns: none

Canceled AT&T Callsigns: KGO31
Description
Randallstown's physical facilities are a concrete building and a 229 ft. (70 M) self-supporting steel lattice tower.
The building contains a main floor, a partial basement, and small second-floor and penthouse spaces for mechanical equipment. The building is "hardened" to protect its contents and occupants against the effects of a nuclear blast and subsequent radioactive fallout. This type of construction features thick, windowless reinforced-concrete walls, heavy steel doors, a decontamination shower, high-quality air filtration, protective walls surrounding rooftop air-conditioning equipment, a designated shelter room in the basement, and a central "seal-up" control panel.
Most of the main floor area is a single large room for Long Lines communications equipment. Also located on the main floor are an entrance vestibule, a walk-through decontamination shower, a supervisor's office, an engine-alternator room, a room for local Bell Operating Company use, a restroom, a janitor's closet, and a stairwell with stairs going up and down.
History
Randallstown was a microwave radio main station. A January 1970 map shows the station having microwave links to Carney, Baltimore, Gambrills and Clarksville, MD. As a main station, Randallstown had facilities for manual and automatic switching of broadband channels for service restoration after equipment failure, for scheduled maintenance outages, and for temporary network reconfigurations.
Randallstown's radio channels carried both message (AT&T's term for telephone circuits) and commercial television network service, and also served Maryland Public Television.
In addition to its role as a main station, the building was home to the Randallstown Radio Relay Maintenance Group - a team of technicians who maintained equipment at AT&T's unmanned microwave stations in the area.
When AT&T converted its transmission network to fiber optics, Randallstown was no longer needed and was shut down. AT&T sold the station to American Tower Corporation, which offers space on the tower for lease to cellular telephone companies and other wireless communications providers. American Tower has produced a site brochure describing the facility.
Thanks to Terry Michaels for contributing the CLLI and GL code data.
Microwave Route Map
January 1970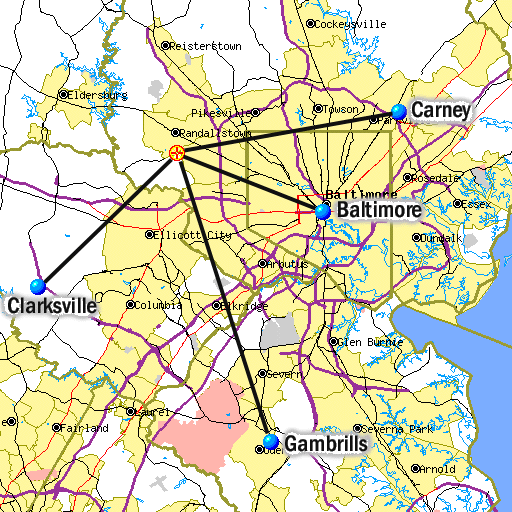 Images

Select an image to view a larger version
Photographed on April 12, 2003
Return to...
Created on May 14, 2003 at 00:51 by Albert LaFrance