Prospect Valley, CO
Description
Prospect Valley was built as an auxiliary (repeater) station on AT&T's first transcontinental microwave radio route, which went into service in 1951. The station linked Fort Morgan to the east-northeast and Watkins to the south-southwest. It eventually became a junction station.
Prospect Valley's 200 ft. Type A steel-lattice tower originally held KS-5759 delay-lens antennas. These were replaced by KS-15676 horn-reflectors.
An unusual feature of Prospect Valley was an equipment shelter located on the tower itself, about halfway to the top and reached from ground level by a stairway . This structure, dubbed the "cabin in the sky", contained the station's microwave radio transmitters and receivers. Its purpose was to reduce the length of the waveguides which connected the radio equipment to the antennas, thus minimizing the loss of signal strength in those transmission lines. It became unnecessary as technology improved.
A 1979 route map shows Prospect Valley having microwave links to Strasburg to the south, Greeley to the northwest, Hudson to the west, and Fort Morgan.
Image
Select image to view a larger version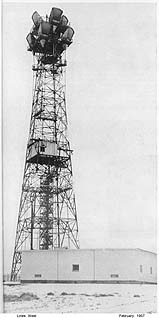 Return to...
Created on May 31, 2008 at 16:08 by Albert LaFrance