Plano, IL
Common Language Location Identifier (CLLI): PLANIL
Description
Plano consists of an underground building entered through a small surface building, and an adjacent, large surface building.
In the past, Plano also was equipped with a steel-lattice microwave tower, which has been removed.
Historical Role
Plano was a main station for L-carrier (coaxial) cable routes to the following stations, as of January 1970:

Cascade, IA
Waukesha No. 2, WI
Lee, IL
Chicago No. 2, IL
Norway, IL
Bluffton, OH
The microwave tower probably linked Plano to Cloverdale and Norway.
Present Role
Plano remains an active AT&T facility, connected to several fiber-optic cable routes.
Images
Select an image to view a larger version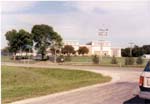 Return to...
Created on November 2, 2001 at 19:53 by Albert LaFrance