Palmer, AR
Information and photo courtesy of Wayne Weishan
Description
Palmer was an auxiliary (repeater) station on AT&T's first TD3 microwave radio route.
To reach the station from Stuttgart, take US 79 northeast through Clarendon to US 49. Turn right and proceed southeast on US 49 about 10-mi. The site is beside the highway on the east side.
The tower is 200.0 feet tall, built in even increments atop an 18.0 foot base section. That is 12.5 feet shorter than the 30.5 foot base section of the other five sites on the route, and is believed to be the only type J tower with a base section of that length.
In the photo, the KS-15676 horn-reflector antennas at the left, and the conical horn-reflector below it (for space-diversity reception) point towrd Stutgartt, and the horns at the right point toward West Helena.
Image
Courtesy of Wayne Weishan
Select image to view a larger version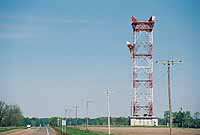 View from south
Return to...
Created on July 27, 2005 at 09:16 by Albert LaFrance