Oak Grove, VA
Thanks to OZOB99 for his contributions to this page.
Oak Grove was a Long Lines microwave radio auxiliary (repeater) station linking Waldorf, MD and Aylett, VA. The station contained type TD radio equipment for the 4 GHz band, and TH equipment for the 6 GHz band. Oak Grove also had a type TE microwave link to the Dahlgren, VA naval reservation; service for that facility was later transferred to Waldorf.
The Aylett-Waldorf route was equipped with baseband encryption due to its heavy concentration of priority circuits.
Images
Photographed by Parris Wood
Select image to view a larger version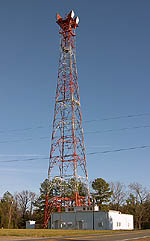 Return to...
Created on May 2, 2010 at 00:52 by Albert LaFrance