Monroe Center, IL
Monroe Center was an auxiliary (repeater) station linking Rockford, IL to the northwest and DeKalb, IL to the southeast.
The station's principal structures are a guyed steel-lattice tower and an equipment shelter. Guyed towers were relatively uncommon in the Long Lines network; most towers were self-supporting.
Image
Courtesy of Gerry Swanson
Select image to view a larger version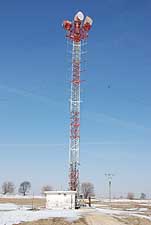 Return to...
Created on March 26, 2008 at 20:43 by Albert LaFrance