Louisburg, KS
Information courtesy of Wayne Weishan
Description
Louisburg was a microwave relay (auxiliary) station. Its major physical facilities are a 375 ft. type H steel-lattice tower with multiple KS-15676 horn-reflector antennas, and a concrete equipment building.
The horns on the top platform are aimed at Kansas City, and the horns on the lower (100 ft.) outrigger platforms are aimed at LaCygne, KS. The horns on the outrigger platforms at the 150 ft. level may be for a sideleg route, or a space-diversity path to Kansas City. A 1979 route map shows Louisburg having routes only to Kansas City and LaCygne, but a sideleg route might hve existed before or after that date.
Image
Courtesy of Wayne Weishan
Select image to view a larger version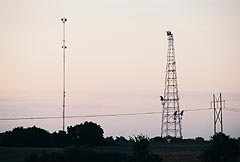 View from the west-northwest.
Return to...
Created on January 4, 2008 at 21:07 by Albert LaFrance