Leesburg CO [Central Office]
Site Data
Address: 145 E. Market St. (Business Rt 7.), Leesburg, VA
Latitude: N39-06-42 (39.1117) NAD27
Longitude: W77-33-32 (-77.5589) NAD27
Elevation: 351 ft.
Important Note
The FCC records found for Leesburg CO are fragmentary, and the removal of the corresponding antennas from the station's tower makes direct observation of paths difficult; therefore the license and path information shown may not be complete and accurate.
FCC License Data
Callsign WHR241 (AT&T) to Paris and Aldie, canceled;
Callsign KJH53 (AT&T) to Hamilton, canceled;
Callsign WAY42 (C&P) to Paris, canceled.
Description
C&P Telephone's (now Bell Atlantic) Leesburg CO microwave station was part of the central office in downtown Leesburg. A 194-foot self-supporting "A-style" tower stands next to the building. The station's likely function was to link C&P's Leesburg-area subscribers, plus those in the Front Royal and Stephens City areas (via Paris), to the AT&T Long Lines network.
Present Function
Leesburg CO no longer has any microwave routes. The building continues to house a Bell Atlantic central office. Typical of former C&P Telephone microwave facilities, the horn antennas have been removed from the tower.
Microwave Path Map
The red lines show canceled AT&T paths. The yellow lines show canceled C&P Telephone paths.

<! -- Image map created by MapMaker32 -->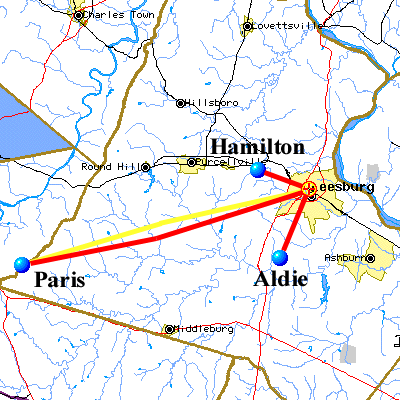 Image Gallery
Images courtesy of Matthew R. Potter (photographed March, 2000)



Select images to view larger versions.
Return to...
Updated on May 24, 2000 at 22:11 by Albert LaFrance