Kates Mountain, WV
Site Data
Address: Kates Mountain Rd., Greenbrier State Forest, Greenbrier County, West Virginia
Latitude: N37-44-48 (37.7467)
Longitude: W80-19-20 (-80.3222)
Elevation: 3124 ft. (952 M)
Description
History
Kates Mountain linked the secret congessional relocation facility at the nearby Greenbrier resort hotel to the AT&T Long Lines microwave network. An underground cable connected the two sites.
Present Function
Microwave Path Map
Under construction
Image Gallery
Photographed June 25, 2000. Select images to view larger version.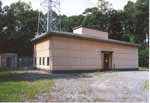 Main building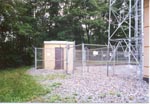 Auxiliary building
(purpose unknown)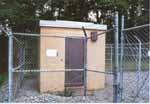 Auxiliary building, close-up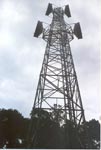 Top of tower, showing
two pairs of high-performance
parabolic antennas
Return to...
Updated on December 9, 2000 at 21:04 by Albert LaFrance