Garden City, VA
Common Language Location Identifier (CLLI): GRCYVAGC
Site Data
Address: 5301 22nd St. N., Arlington, VA 22205

Latitude: N38-53-45 (38.89583)

Longitude: W77-08-07 (-77.13528)

Elevation: 400 ft. (122 M)
FCC Microwave License Data
City/County of License: Arlington/Arlington, VA

Active Callsigns: None

Canceled Callsigns: KIB27
Description
Update: The Garden City property has been sold by AT&T, and demolition of the AT&T building began in late July 2007. The property will be re-developed into a community of single-family detached homes named Garden Commons. The tower, owned by American Tower Corporation, will remain. Site plans (PDF files, about 1.1 MB each) can be viewed here for the north and south portions of the subdivision.
View a collection of interior and exterior images of the building, taken in June 2007, courtesy of Tad Grosvenor.
Garden City occupies a large, fenced lot fronting on Lee Highway (Rt. 29). Located in a densely-developed suburban area about five miles west of Washington, DC, the station features a 305-ft. self-supporting steel tower and a large, U-shaped white building containing at least one floor level plus a basement. The flat roof has multiple levels, suggesting that the building may include one or more additions.
Noteworthy exterior features of the building are a metal railing which encloses the entire perimeter of the roof, an outside stairway which provides access to the roof from the fenced area around the tower, and stairways linking the various roof levels. Those items have not been seen often at AT&T facilities; a former Garden City employee notes that they were provided to facilitate maintenance access to rooftop air-conditioning equipment, and that the railing was required by county code for the safety of workers on the roof.
In early 2001, the tower's complement of microwave antennas consisted of:
four pairs of Western Electric KS-15676 pyramidal horn reflectors
(four of these antennas were removed in February 2001, and the remaining four were removed in August 2001),
one pair of conical horn reflectors,
a single conical horn reflector, and
several parabolics, which may not have been part of the AT&T network.
An unusual tower extension above the upper antenna platform supports a number of whip antennas for VHF/UHF radio services, and a small parabolic antenna.
Garden City is adjacent to a commercial AM broadcasting station; in fact one set of the AM tower's guy cables is anchored on the AT&T property. Because a large metallic object near an AM transmitting antenna can distort the station's radiation pattern, Federal Communications Commission regulations require "de-tuning" of such structures within a specified distance of an AM tower.
To meet this requirement, the AT&T tower is equipped with a de-tuning "skirt" consisting of four heavy cables which run parallel to and outside of the tower's legs. The cables are attached to the tower near the top, and about twelve feet from the bottom they are anchored to the ground through porcelain strain insulators. There, the four cables converge at a metal box housing an electrical network which accomplishes the de-tuning.
Photos of one of the cables, and the network housing, are included below.
A pair of Bell System manholes is located just outside the fence on the north side of the property, along Lee Highway, indicating that the station has connections to underground/buried cables in addition to its microwave radio links. Another telephone manhole is located near the northeast corner of the building.
History
AT&T's decision to build a station at Garden City station was taken as early as March, 1950, as part of a planned microwave link between Washington, DC and New York City.
Garden City was a major microwave junction serving the Washington area, and in addition had terminal multiplex equipment on some of the channels of its TD-2 microwave radio equipment. The station was also linked to other Bell System facilities in the area by several underground/buried wire-pair cables. One of these went to C&P Telephone's nearby Falls Church central office on Lee Highway, providing Long Lines service to the local area. Another cable connected Garden City to AT&T's Washington 1 office, in downtown Washington near the White House. Through "Wash 1", Garden City was linked to Richmond, VA by carrier and metallic circuits on the Washington-Richmond "A" and "B" cables. Yet another cable linked Garden City to the Pentagon for government services.
In addition to the wire-pair cable, Garden City was connected to "Wash 1" by an L1 coaxial cable. This cable provided voice-grade service prior to installation of the terminal multiplex equipment for the station's microwave links. Because the link was shorter than the L1 system's 8-mile repeater spacing, no repeaters (and hence no power-feed equipment) were installed.
Garden City was a Serving Test Center (STC) for private line circuits, including some overseas lines, and may have had facilities for Improved Mobile Telephone Service.
As might be expected for a large AT&T facility near the nation's capital, Garden City supported a number of special communications networks serving the federal government. Some of these were mobile communications systems. Garden City was a Ground Entry Point for radio communications with the "Looking Glass" airborne command post, and hosted equipment and antennas for two other Air Force radio systems: a land-mobile network called "Wheelhouse" and an air-ground network called "Minuteman" (not related to the missile system of that name).
The station was also the control office for a critical fixed-site defense voice communications network: the Joint Chiefs of Staff Alerting Network (JCSAN), also known as the Command Post Alerting Network (COPAN). That function was later transferred to AT&T's Pentagon 3 office.
In addition, Garden City played an important role in carrying network television programming to and from Washington and points south. An article in the November 1950 Bell Laboratories Record states:
On September 18, commercial television was established on a 315-mile route between New York and Washington. It uses stations of the system between New York and Chicago as far as Clark's Knob, some 40 miles west of Harrisburg. From here a branch runs to Garden City, Virginia, where a temporary radio link extends the system to Washington. One northbound and one southbound channel are provided.
Garden City was linked to Clark's Knob through a relay station named Yellow Springs, in the Catoctin Mountains northwest of Frederick, Maryland. The microwave path between Garden City and Yellow Springs was unusually long - about 46 miles, in contrast to the more common path lengths under 40 miles. To compensate for the higher signal attenuation on that long path, the transmitters of its TD-2 microwave radios were equipped with 5-watt final amplifiers, (originally using vacuum tubes; then converted to solid-state). Despite that power level - the highest available in TD-2 equipment - microwave reception on the path faded frequently, causing service to switch automatically to a protection channel.
From Garden City, network television service extended south over a microwave route to Richmond, Virginia, and from there to Norfolk, Virginia. The route ran west from Garden City to a station at Haymarket (on Bull Run Mountain), then south to Clark Mountain, Pendleton, Oilville and Richmond.
Selection of network programming feeds was done by AT&T technicians at a video switching matrix panel in the Television Operating Center at the Washington 1 office. This panel was linked to remotely-operated intermediate-frequency switches at Garden City, via composite signaling on wire pairs. It was these switches which routed the video signals between the AT&T network and Washington's TV stations. A duplicate video switching panel was located at Garden City, to provide backup for this critical service.
Route Maps
Present Function
The tower at Garden City is managed by American Tower Corporation, which offers tower and building space for lease to cellular telephone providers and other wireless communications companies. American Tower's Site Brochure provides additional data about the facility, and includes photos and drawings.
As of July 1992, Garden City was a base station for AT&T's Telephone Maintenance Radio Service (TMRS), a UHF radio network which supports the company's maintenance activities. At that time it had no microwave or cable links for common-carrier service.
As of late 2006, AT&T still owned the property but a sale was reported to be imminent. The site may be re-developed for residential use.
Photo, circa late 1951
Select image to view a larger version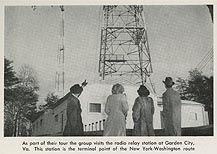 From the January 1952 issue of Long Lines magazine (p. 4)
Horn Antenna Removal

(photographed February 21, 2001)
Select an image to view a larger version

| | | | |
| --- | --- | --- | --- |
| | | | |
| | | | |
Tower De-Tuning System

(photographed July 17, 2001)
Select an image to view a larger version

| | |
| --- | --- |
| De-tuning network box (with door open) atop ice bridge at center. | One of four cables forming "de-tuning skirt". Note insulator where cable changes direction. |
Demolition

(photographed July 27, 2007)
Select an image to view a larger version
Return to...
Updated on August 3, 2007 at 13:58 by Albert LaFrance