Alexander, AR
Information and photo courtesy of Wayne Weishan
Description
Alexander is located about 3 miles south of I-30 exit 126, on a hill next to Highway 111.
According to an article in the September 1968 issue of the Bell System Technical Journal, the main platform antenna mounts are 137.5 ft. AGL. The KS-15676 horn-reflector antennas are aimed at Tucker, the side-mounted horns are aimed at Little Rock. There may have been main-platform antennas pointed toward Little Rock. The original BSTJ photo shows two main-platform horns pointed toward Tucker.
The secondary tower was added later to meet new path-clearance requirements. The building's mezzanine floor housed A/C and ventilation equipment. Note the AT&T globe logo; the station was probably not part of the American Tower acquisition and may still be active.
Images
Courtesy of Wayne Weishan
Select image to view a larger version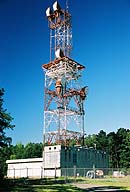 Return to...
Created on July 12, 2005 at 23:00 by Albert LaFrance