AT&T Microwave Station
Aldie
Site Data
Address: Loudoun County, Virginia, on unnamed N-S road approximately 0.5 mi. E of the intersection of VA Rt. 650 (Gleedsville Rd.) and VA Rt. 771 (Woods Rd.)
Latitude: N39-02-30 (39.0417)
Longitude: W77-35-45 (-77.5958)
Elevation: 487 ft. (148 M)
Description
Aldie's 264-ft. "A-style" steel tower, painted in the traditional red and white and topped by a white strobe light, stands in sharp contrast to the surrounding heavily-wooded countryside. In addition to the tower, Aldie's facilities consist of a poured-concrete main building, and three smaller equipment buildings. One of these three is a vintage Western Electric factory-built shelter, constructed of natural-finish sheet metal riveted onto a supporting framework.
The tower holds two pairs of KS horns at the top, and two modern parabolic antennas mounted lower.
History
The three small shelters may be important clues to Aldie's history, as multiple equipment buildings are uncommon at AT&T microwave stations.
There is evidence of three past roles for Aldie:
Linking Monrovia to the Western Union (WU) activity which formerly occupied the Middletown site.
Providing a gateway between the AT&T Long Lines (long distance network), and C&P Telephone (the local Bell company, now Bell Atlantic) central offices in the area. One or more of the small shelters at the base of the tower may have contained equipment for this service, since one shelter has a sign requesting that the BOCC (Bell Operations Control Center) be called in case of emergency, and giving several contact names and phone numbers with the Richmond, VA area code. FCC records show a canceled license (KJJ28) for a microwave link connecting Aldie to the Leesburg (VA) CO and Nokesville (VA) stations.
Providing radio communications for the U.S. Air Force. There is circumstantial evidence that the aluminum Western Electric shelter held USAF equipment. In their comprehensive "Washington-Baltimore Scanner Almanac" (1995), Willard Hardman and Alan Henney note that the U.S. Air Force 7th Communications Group operated a radio facility in Aldie, which was deactivated in the 1980s along with other remote facilities in Independent Hill, VA and Georgetown, DC [page 379]. Also, a former AT&T-operated USAF communications facility near Chesterfield, MA features a similar shelter.
Present Function
Aldie serves as relay point between the microwave stations at Linden (VA) and Monrovia (MD), under FCC callsign WMT368. It is a component of the microwave link between Monrovia and AT&T's EasyLink Services (tm) Message Operation Center in Middletown, VA. The likely purpose of this link is to connect Middletown into AT&T's fiber-optic cable network, since several AT&T cable routes converge at Monrovia.
Path Map
Thick lines represent currently-licensed paths; thin lines show paths having canceled licenses.

<! -- Image map created by MapMaker32 -->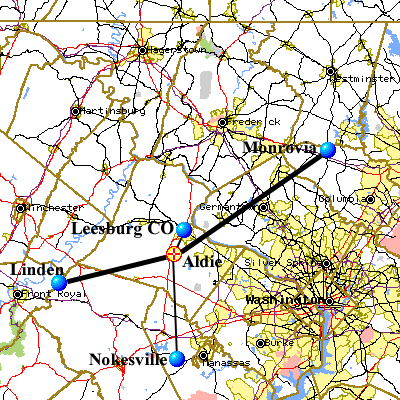 Image Gallery
Photographed May 3, 1998. Select images to view larger version.
Return to...
Last Updated on July 9, 1999 at 00:44 by Albert LaFrance