ARTNVACKT20
AT&T Long Lines Department
Note
This station is an active AT&T network facility. AT&T Corporate Security has requested that the names and exact locations of such facilities not be published. Accordingly, it is identified on this web page only by its CLLI code, ARTNVACKT20.
Site Data
FCC Microwave License Data
Common Language Location Identifiers (CLLI)
Description
ARTNVACKT20 features a pair of horn reflector antennas which transmitted and received through openings in the tall parapet wall screening the rooftop. Also on the roof, though only visible from a distance, is a large white communications satellite dish.
The property is surrounded by a tall security fence, and all entrances are protected by closed-circuit TV surveillance. The building has an underground parking garage, and an outdoor parking area, all secured by a motorized gate. A structure adjacent to the gate (see photo below) appears to be an emergency exit from the garage.
An underground cable route links ARTNVACKT20 with the station having CLLI designation DSVLVADV, a large, hardened underground facility in Fairfax County, Virginia. The route originally consisted of coaxial cable (L-carrier), but has been converted to fiber optics. The four repeater huts which supported the coaxial-cable link still stand along Leesburg Pike (Rt. 7).
Historical Role
ARTNVACKT20 was an AUTOVON switching center as well as a toll switch in AT&T's commercial long-distance network. Located less than two miles from the Pentagon, it likely provided important defense communications services.
Present Function
The facility remains active and probably still serves both government and commercial customers.
Route Map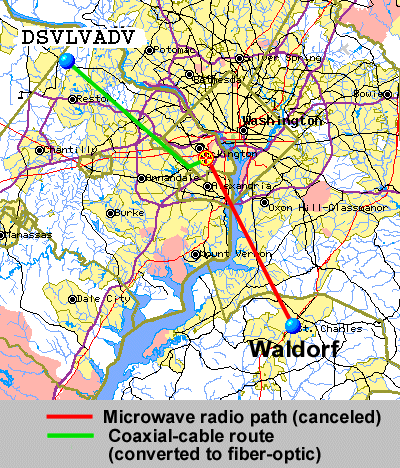 Image Gallery

(photographed May, 1999)
Select an image to view a larger version

| | |
| --- | --- |
| | |
Return to...
Updated on August 24, 2004 at 15:34 by Albert LaFrance